Letter from the EHS President
Dear members and friends of the European Hip Society,
Dear colleagues,
As our name suggests, the European Hip Society specialises in all topics relating to the hip. From childhood to old age, conservative treatment to septic revision surgery – all fields are addressed in our congresses, meetings and committees, as well as in our journal, "HIP International".
The EHS congress takes place every two years and, following very successful meetings in Milan by Luigi Zagra and Stockholm by Gösta Ullmark, it is now my pleasure to invite you to Munich, Germany, from 6th to 9th September 2016, for the 12th European Hip Society Congress. Our society committees, along with the German organizers, are already preparing the program for 2016.
September 6th will be a Speciality Day for industry meetings and for all our society board meetings.
On September 7th (Wednesday) and September 8th (Thursday) we will hold our scientific program across several rooms. The various topics will shortly be announced and I cordially invite you to take part in the scientific program by submitting your abstracts. Keynote lectures, workshops and a big industry exhibition, together with our General Assembly for all EHS members, complete these two days.
We hope to introduce a new format by presenting a combined meeting of the European Hip Society and the American Hip Society, with speakers from both on specialist subjects.
Munich is home to Europe's biggest wetlab for arthroscopic hip surgery, and we will accommodate a training course there on the same day (Friday 9th Sept.).
I hope to have captured your attention with this diverse program. We are a fast growing specialty society and have close contacts with EFORT, the European orthopedic society. Our members will of course enjoy reduced fees, so – if you aren't already – I encourage you to join us and become a member of EHS. Look at our website (www.european-hip-society.org) to see the many benefits.
The organizing committee and I would be very happy to welcome you all to the south of Germany for this 12th Congress of the European Hip Society from September 6th to 9th 2016. Please reserve the date and don't miss this absolutely top-level orthopedic event in Munich.
Yours sincerely,
Prof. Dr. Werner Siebert
President of the European Hip Society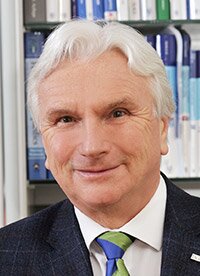 Prof. Dr. Werner Siebert